"NACHT DER TRACHT"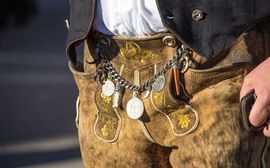 The "Nacht der Tracht" is taking place for the thirteenth time and will once again bestow the location at Stiglmaierplatz with a festive and traditional Bavarian atmosphere. Everybody who has a popular name can be found here, to see and be seen – and of course to join in the celebrations with good beer and tasty Oktoberfest delicacies!
Surrounded by elegant dirndl decolletages and strapping calves in lederhosen, the cult band "Barfuss", with popular and well-known party classics, DJ Enrico Ostendorf from the radio station Charivari and the Feldmoching marching band create a traditional beer tent atmosphere and thus a unique blend of tradition and lifestyle.


An exclusive Angermeier fashion show will also take place at the kick-off evening: Marvel at the latest Tracht trends, stylishly presented by models during an entertaining show, and stroll through all the floors of the Löwenbräukeller. Creative and tasteful lounges and bars, music that makes you want more and many other highlights ensure variety and a great night.

The Löwenbräukeller can be reached from the Platzl Hotel with the U-Bahn line 6 and the U-Bahn line 1 in just 15 minutes.

Fotoquelle: ©EinfachMünchen / Werner Boehm