Our new Head of Housekeeping - Sophie Gotte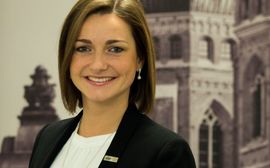 Ms. Gotte, thank you for taking the time to talk to us. How long have you been at the Platzl and where were you before?
I have been working at the Platzl Hotel since December 1st 2016, and before that I was Branch Manager at Sixt car hire. However, my roots are in the hotel industry, where I completed an apprenticeship and a degree in hotel management. I gained my experience in the housekeeping department in Europe, America and Asia.
What does a normal working day look like in your role as Head of Housekeeping?
I start the day with a walk round the hotel. I check the cleanliness in all areas of the hotel. Followed by the coordination of the chamber maids and house keepers, we go into our morning meeting of the department, where we discuss all the most important issues of the day, for example guest requirements. Then I coordinate all the interfaces in the hotel. This includes all cooperating companies, and internal procedures. We work very hard on the high quality of our product, and the topic of cleanliness is one of the most important topics of my day to day work. Of course I am also continually available as a contact person for my employees, as active discussion with them contributes to the success of the department
In the next few weeks, the first rooms will be renovated in the Platzl. What can the guests look forward to in the future?
I am also very much looking forward to the renovation of the rooms and corridors. In all the newly renovated rooms, our guests can expect a high quality parquet floor instead of a carpet, new upholstered furniture and curtains, lamps and now also reading lamps – of course all fitted with energy saving LED bulbs.
The bathrooms will have a rain shower and hand spray. Additional towel rails will also be installed, so that the terry toweling products are easier to reach.
Great attention to detail is particularly important in your area of responsibility. Have you always had this talent or is it the result of years of hotel experience?
Both. My experience in each previous role has shown, that precisely this attention to detail is not always a given. It is a constant challenge to implement your own ideas and concepts with the help of the team. Because only if a good mixture of my aspiration and their initiative is present, can we achieve joint goals. It does not hurt if you already have a certain attention to detail, and literally an orderly basic attitude.
Enough about business. How do you wind down in your free time?
My favorite way to wind down is with good food, a nice glass of wine, in good company. I also like to do sport – I find the perfect balance in kick boxing or jogging.