The Platzl and the Nicolaidis YoungWings Foundation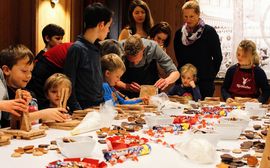 Christmas is the celebration of charity, and at the Platzl Hotel we also would like to give a little bit back to the community. The vast majority of us are allowed to spend the contemplative time of the year in the secure circle of the family, unfortunately there are also many people who do not enjoy this privilege. The Christmas season is especially difficult for people who have lost close relatives. That is why this year we are once again supporting the Nicolaidis YoungWings Foundation.
What is the Nicolaidis YoungWings Foundation?
As already indicated above, the foundation addresses children and young adults who have lost important people in their lives. The organization helps those concerned to cope with bereavement and also helps them to answer legal and financial questions. In order to live up to the specific claim of individual counselling to the fullest extent, the foundation depends on external partners, such as the Platzl Hotel.
The scent of Christmas cookies is in the air!
On the first Sunday in Advent we invited 20 children and 12 adults cared for by the Nicolaidis YoungWings Foundation to the Restaurant Pfistermühle, which was subsequently transformed into a large Christmas bakery. With homemade chef's aprons around their hips the young people and our team processed eight hefty kilograms of dough. An impressive total of 50 baking trays featuring the most varying Christmas cookies and hopefully also several cheerful hours for the children and adults was the result in the end.
Advent concert in the Alter Peter church
The children and adolescents from the Nicolaidis YoungWings Foundation were also the focal point of the annual Advent concert by the Inselkammer family this year. On December 10th the audience experienced a contemplative evening with the Wind Orchestra of the Academic Choral Society Munich (AGV) in the "Alter Peter" ("Old Peter", St. Peter's Church), and after the concert we were fortunately able to collect generous donations for the Nicolaidis YoungWings Foundation. Afterwards we took the Christmas spirit with us into the decorated inner courtyard of the Platzl Hotel. Venison from the Inselkammer family own hunting activity, grilled sausages and homemade mulled wine was available for all guests at the Christmas Market. The Verrückte Eismacher (crazy ice-cream maker') was also there and pampered visitors with wintry creations such as gingerbread ice cream, Christmas fruit loaf ice cream and mulled wine ice cream!
We hope to be able to continue this tradition for many years to come, and in this spirit we wish you a beautiful Christmas season on behalf of the entire Platzl team!